1/1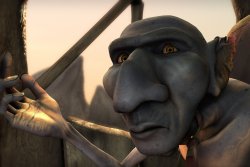 ---
THE TOLL
Director: J. Zachary Pike
United States, 2006, 7 min
Festival Year:2007
Category:Animation
Cast:Patrickk Montello (The Troll), Tristram Fowler Jr (Harvey Stevens), John Herman (the Offender)
Crew:Producer, Cinematographer, Editor: Marc A. Dole - Screenwriter: J. Zachary Pike, Robert Bolivar, Lou DeSantis - Sound & Original Score: Chris Decato
Sales:Marc Dole - Hatchling Studios, PO Box 1094 Portsmouth, NH 03802 - T: 603-436-0056 - F: 603-436-0061
Email:festival@hatchling.com
Synopsis
The Toll is a Computer Animated mockumentary and a character study in the guise of a student project created by fictional film student Harvey Stevens. Harvey delves into the realm of not-so-fantastic myth to interview a troll who lives under a bridge. The troll is, for lack of a better word, evil. He's aggressive, uncouth, temperamental, and has a nasty habit of eating people. His pet is a malicious cross between a dragon, a pug, and a Cuisinart. Yet strangely, the troll wants acceptance from the society he preys on, and sees the young filmmaker as an opportunity to clear up the 'misunderstandings' that have always plagued him. As Harvey rolls the camera, the troll's comments on work, life, and love range from somewhat inappropriate to outrageously delusional, slowly revealing the hilariously tragic figure of a monster in denial.
Trailer
About the director
Zachary is a director, screenwriter and animator, whose creative credits include projects for Fisher Price, Court TV, and NBC. Zachary has recently directed shorts for Hatchling corporate clients Liberty Mutual and Reebok. He is presently developing many of Hatchling's forthcoming films and shows, including Flare and The Legend of Machu Sunu.
Notes
Marc A Dole, Producer will be available for Q&A after the screening.
Related links