1/1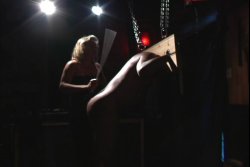 ---
SUSAN FOR NOW
East Coast Premiere
Crew:Editor: Ian J. Connors - Cinematographer: Brady Hall - Original Score: John Ferrer - Sound: Ian J. Connors
Sales:Robin Franzi, Director - Redmond, WA- T: 206-390-9864
Email:writesoul@msn.com
Synopsis
The narrator of this first person documentary is in her forties, a finance professional with a Masters Degree who had been celibate for ten years while raising her only child and working. The husband and child now gone in separate directions; she replaces the empty nest syndrome by reclaiming her sexual freedom. She encounters the sex positive community in Seattle, Washington and the resources now available both on the internet and beyond that did not exist a decade ago. This film seeks to dispel the myth that all forms of BDSM (Bondage, Domination, and Sado-Masochism) and fetishes are inherently deviant through an intelligent and forthright exploration of this widely practiced let little known genre of alternative sexuality in some of its most extreme forms.
Trailer
About the director
Robin Franzi originally hails from Rhode Island and has worked in corporate finance for fifteen years, earning a Bachelors Degree in Finance and a Masters Degree in Information Systems. This is her directorial debut. She was a former member of Plato's Retreat in New York City and is a current member of Seattle's Sex Positive Community Center. Her short story, "The Numbers Game", was published in Peeks and Valleys, a New England Fiction Journal in April of 2002. Her ride of self-discovery and artistic expression has yet to reach its apex.
Notes
Robin Franzi, Director will be available for Q&A after the screening.
Related links