1/1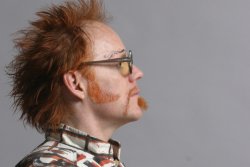 ---
CHARGE FOR THAT
Cast:Mark Nilsen
Sales:Chris Cassidy, Brooklyn NY 11211 - T: (212) 592-9900
Synopsis
The streets of New York City have been an endless palette for artist Mark Nilsen. Dog piss, enthusiastic passers-by, and everything in between as Nilsen brings his work from creation to commerce in this Cassflix film "Charge for That". Filmmaker, Chris Cassidy, creates a "day in the night" documentary exposing one of Mark Nilsen's unique ideas.
About the director
Chris Cassidy has been a professional photographer in New York City for the last 12 years, specializing in the music industry and professional boxing. His pictures have appeared in numerous publications, including Rolling Stone, US, People, Newsweek, Vibe, Sports Illustrated , New York Times and The Ring. In 1999, Chris made the transition from still photography to filmmaking. He has directed over 20 music videos and the award-winning MTV documentary short, "Dear Barbra..." He is currently working on a feature length documentary about the unique relationship between a Brooklyn-based rock singer, Vic Thrill, and young Hasidic Jew, Curly Oxide, who was drawn to Vic's free spirited lifestyle.
Chris Cassidy's filmography
Notes
Director Chris Cassidy & Mark Nilsen will be available for Q&A after the screening.
Related links