1/1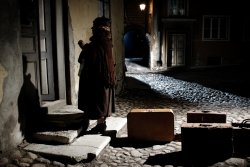 ---
THE GREAT MAGICIAN
(Den Store Trollkarlen)
US Premiere
Director: Elisabet Gustafsson
Estonia, 2006, 14 min
Shooting Format:16mm
Festival Year:2007
Category:Narrative Short
Cast:Egon Nuter, Maria Klenskaja
Crew:Producers: Riin Urbanik, Olivier Guerpillon And Marie Sonne-Jensen - Cinematographer: Alex Linden, FSF - Sound: Leo Hellden, Romain Violleau - Set designer: Jerome Signori - Costume designer: Mare Raidma - Voice over: Claes Hylinger - Production companies: dfm fiktion AB, Riin Urbanik for Average Monkey, Marie Sonne Jensen for La Voie Lactee - Based on: "Le Grand Magicien" by Rene Daumal
Sales:Riin Urbanik, Producer - Average Monkey, Majaka 7-60, 11412 Tallinn, Estonia - T: +372 5189854
Email:riin@averagemonkey.com
Synopsis
Once upon a time, there was a great magician who was living in the guise of an anonymous bank clerk. Though he is surrounded by inimical people, he refrains himself from using his supernatural powers. An absurd tale based on a short story by Rene Daumal.
Trailer
About the director
Elisabet Gustafsson (1972, Stockholm) studied Literature at Stockholm and Lund Universities. She later worked in theatre as a stage director from 1992 until 1998 when she moved to Paris to produce TV-reports and short documentaries for Scandinavian television. In 2003 she returned to Sweden where she currently works as a film director and producer.
Filmmaker's note
A pataphysical fairytale for grown-ups, with magicians, angry aunts and elephants.
Notes
Director Elisabet Gustafsson & producer Riin Urbanik will be available for Q&A after the screening.
Related links