1/1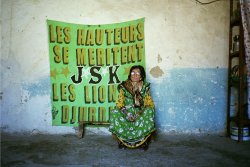 ---
NADIA'S JOURNEY
US Premiere
Director: Carmen Garcia & Nadia Zouaoui
Crew:Script & Research: Nadia Zouaoui - Script consultant: Carmen Garcia - Editor: Jean-Marie Drot - Cinematographer: Claudine Sauvé - Sound: Diane Carrière
Sales:Laure Parsons - National Film Board of Canada - T: 212-629-8890
Email:L.parsons@nfb.ca
Web:www.nfb.ca
Synopsis
As a young woman, Nadia Zouaoui vowed that her suffering would not be in vain. When she was 19, her parents forced her into an arranged marriage with an Algerian man twice her age living in Montreal. He had chosen her based on a photograph. Years later, she returns to Kabylie, Algeria to see if things are any different. Her journey is a hellish voyage into a patriarchal culture backed by strict Muslim tradition, a society obsessed with female virginity that keeps women in servitude. She depicts with clarity and intimacy the cruelty endured even to this day by so many girls and women held captive in their homes. This deeply disturbing documentary provides a gripping experience for men and women, young and old alike.
About the director
Carmen Garcia was raised in Paris where she studied literature. She moved to Montreal in 1973. After studying translation and communication, she worked in publishing and journalism. In 1983, she began to collaborate on documentary films, assuming a variety of responsibilities, particularly researching, writing and producing. Together with German Gutiérrez, she founded Système D Productions in 1988, which ultimately became Argus Films. Among the films they produced are: Le Système D by German Gutiérrez, La terre des autres by Mary Ellen Davis, L'Église du sida by Gil Courtemanche, and more recently Who Shot My Brother? by German Gutiérrez in co-production with the NFB. She started directing in 1993, yet continued to write and produce. The films she has directed include Variations on a Familiar Theme (NFB), On a marché sur la terre (a Pixcom series) and Beef Inc.(NFB). She is currently working on L'école symphonique (which she is directing and producing), Planète poubelle (a film by Denis Blaquière) and L'affaire Coca-Cola (which she is co-directing with German Gutiérrez and co-producing with Yves Bisaillon at the NFB).

Until she was 19 Nadia Zouaoui lived in the Kabylia region of Algeria where she studied Arab literature. She has been living in Montreal since 1989 and has undertaken studies in communication arts as well as French and English literature. Since 1994, she has been involved in various facets of public affairs radio broadcasting. She was a researcher for CBC Radio's Day Break, Info 690's Internet coverage of the war in Iraq, and the Gilles Proulx show on CKAC. Since 1999, she has been working as a freelance journalist for various programs on CBC radio, Radio-Canada, and Info 690, preparing reports for the program Commentaries, and contributing to Radio Canada's Dimanche Magazine program. In 2005, her project on the radical changes in Morocco's family code earned her the Bourse NORD-SUD. The result was a report for Dimanche Magazine entitled "Peut-on marier Islam et droits de femmes?" (Are Islam and women's rights compatible?) She occasionally writes articles dealing with the Arab world for La Presse and Journal Alpha. Nadia Zouaoui is currently a narrator, researcher and translator at Galafilm. She recently made her filmmaking début as co-director of Nadia's Journey. In addition to conceiving the idea for the film, she wrote the script, took charge of the research and carried out the interviews, translation and narration. She is presently working on a second documentary concerning the culture shock sometimes experienced by Montrealers of Arab origin.
Related links