1/1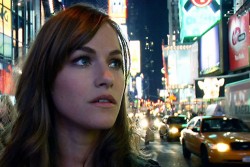 ---
THE COLLECTIVE
East Coast Premiere
Director: Judson Pearce Morgan & Kelly Overton
Cast:Kelly Overton, Laura Allen, Shane Mcrae, Wynn Everett, Donnie Keshawarz
Crew:Producers & Screenwriters: Judson Pearce Morgan and Kelly Overton - Cinematographer, Editor, Score, Sound: Judson Pearce Morgan
Sales:The Collective Film Group, Los Angeles, CA 90028 - T: 917.686.5475
Email:judson@thecollectivefilmgroup.com
Synopsis
In New York City knowing what to believe is never easy. When Tyler Clarke gets a cryptic voicemail from her sister, she is left with no choice but to fly across the country to find out what has happened. But when she arrives, Jessica is nowhere to be found. Alone in an unfamiliar city, surrounded by strangers, Tyler has no choice but to trust the people who call themselves Jessica's new friends. She eventually discovers that her sister has given up the life she was living to join a group that call themselves "The Collective." And now, in order to discover the truth, Tyler must delve into a world of darkness and lies, the underbelly of this spiritually depraved community living in a deconsecrated cathedral. With a cast of Broadway stars, as well as stars of the big and small screens, "The Collective" is a film that will keep you wondering until the final frame...who can you trust?
Trailer
About the director
Kelly Overton and Judson Pearce Morgan, who both hail from the NY acting community, join forces on "The Collective" for their filmmaking debut. As an actor, Kelly has been seen in such films as "The Ring 2", Stephen King's "Desperation", and soon to be released "Tekken" as well as starring opposite Kathleen Turner and Jason Biggs in The Graduate on Broadway. Judson, who was also seen in The Graduate and has starred in such award winning films as "The Cabinet of Dr. Caligari", has also directed a film called "The Wager," to be released by the Weinstein Company later this year.
Notes
Cast and Crew will be available for Q&A after the screenings.
Related links