1/1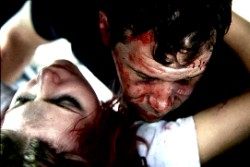 ---
THE LOCAL
World Premiere
Cast:Dan Ebere, Maya Ferrara, Karl Herlinger, Beau Allulli, David F Nighbert
Crew:Producers: David Cornue, John McCloskey - Screenwriter: Dan Eberle - Editor: Tim Guetterman, Dan Eberle - Cinematographer: Tim Guetterman - Original Score: Bill Campbell, Jesse Chandler - Sound: John McCloskey - Consulting Producer: Per Anderson
Sales:David Cornue, Producer - Insurgent Pictures, LLC, Brooklyn, NY 11218 - T: 917-520-1976
Email:contact@insurgentpictures.com
Synopsis
A wealthy out-of-towner hires an indigent man to extract his daughter from the drug-induced stranglehold of her lover, a sadistic war-scarred veteran. "The Local" is an existential action-thriller about a nameless man, torn apart by a dark past, and his bloody and thankless path to redemption in a world beyond saving.
Trailer
About the director
Dan Eberle was born in 1974 in San Diego, California. He is a film actor, director, writer, and producer. Dan studied film production under Academy Award nominated filmmaker Steven Bognar (The Last Truck, A Lion in the House). Dan's films have been distributed all over the world, and won numerous awards for outstanding directorial achievement. His features include JailCity (2006), The Local (2008), Prayer to a Vengeful God (2010), and Cut to Black (2013). Dan resides in Brooklyn, New York with partner and co-producer Danielle Primiceri, where he founded the production company Insurgent Pictures with Tim Guetterman.
Notes
Cast & Crew will be available for Q&A after the screening.
Related links