1/1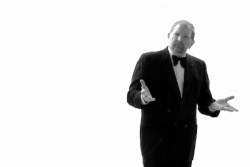 ---
THE DEAF MAN
World Premiere
United States, 2007, 9 min
Festival Year:2008
Category:Experimental
Cast:Howie Seago, James K. Flynn
Crew:Producer: Julie Dameron - Screenwriter: David Kurs - Editor: Wayne Betts Jr. - Cinematographer: Wayne Betts Jr. - Sound: Rory Oleson - Associate Production: Alice Milrud & Laura Hill - Visual Effects: Aldo Ruggiero
Sales:Leon Lim, Excutive Producer, New York NY 10021
Email:leonlim26@hotmail.com
Synopsis
In an era of technological improvements for deaf people, such as the cochlear implant, the destiny of the deaf is examined through one man's experience.
Trailer
About the director
A Los Angeles-based writer and director, David Kurs has worked on various play, film, and internet projects. He got his start in the industry as an assistant Story Editor for Jersey Films. Recent projects include a series of viral videos for Sprint and "Aesop Who" for the Deaf West Theater Company in Los Angeles.
Filmmaker's note
"I was inspired by the salons of 18th Century Paris. Abbe l'Epee, a teacher of the deaf, would show off his deaf pupils to wealthy French dignitaries," says writer and director DJ Kurs. "I wanted to use the sense that deaf people are constantly on display, even when they don't want to be, as the starting point for a short movie." "This story is so universal. It speaks volumes about the deaf and how the rest of the world perceives them," adds producer Julia Dameron. Dameron sent the script to Howie Seago, a Seattle-based actor with multiple stage, television, and motion picture credits. When Seago accepted, Kurs rewrote the script to emphasize the humanity he knew Seago would bring to the screen.
Notes
Director David Kurs and Excutive Producer Leon Lim will be available for Q&A after the screenings.
Related links