1/1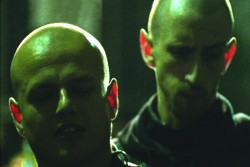 ---
GLASS TRAP
(Szklana pulapka)
NY Premiere
Poland, 2008, 15 min
Shooting Format:HDCAM
Festival Year:2009
Category:Documentary Short
Crew:Executive Producer: Kuba Kosma (Kosma Film) - Producer: Polish Filmmakers Association - Screenwriter: Pawel Ferdek - Editor: Jan Przyluski - Cinematographer: Wojciech Staron
Sales:Katarzyna Wilk, Krakow Film Foundation , ul. Morawskiego 5, pok. 434 30-102 Kraków, Poland - T: +48122946945
Email:katarzyna@kff.com.pl
Synopsis
Cash, a car and a mobile phone... as well as fish. A group of tough men from near Warsaw organize a new form of entertainment. Their customary meetings over alcohol and drugs start to include fights between aggressive aquarium fish, which are, of course, accompanied by bets for large sums of money. Such is the extent of this hobby that one of the characters hopes that his champion will contribute significantly to the purchase of a new Subaru.
"It almost sounds like fiction: tough young men who drive fast cars and hold fighting matches to the death between aggressive goldfish. With its great cinematic style, Glass Trap makes you think of a "Godfather" spinoff. The film has something sinister about it, but because of the fascination of goldfish also something innocent and surreal" -Catalogue IDFA Amsterdam
About the director
Pawel Ferdek (1977) - scriptwriter, documentary filmmaker, globetrotter - is a graduate of Warsaw University (International Relations), Academy of "Gardzienice" Theatre Company and European film programme EKRAN in Andrzej Wajda Master School of Film Directing.
Notes
Director Pawel Ferdek and producer Kuba Kosma will be available for Q&A after the screenings.
Related links