1/1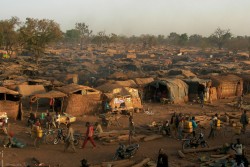 ---
THE HILLSIDE CROWD
(Ceux de la colline)
US Premiere
Switzerland, 2009, 72 min
Shooting Format:DVCam
Festival Year:2009
Category:Documentary Feature
Crew:Producers: Cédric Fluckiger (MirFilms) and Christian Lelong (Cinédoc Films) - Executive Producer: Les Films du Djabadjah - Screenwriter: Berni Goldblat - Editor: François Sculier - Cinematographer: Michel K. Zongo - Sound: Moumouni Jupiter Sodré - Original music: Pierre Omer - Sound Editor and Mixer: Carlos Ibanez Diaz - Color Correction: Jean Reusser
Sales:Cédric Fluckiger, Producer - MirFilms C/o François Bovier, 22 bis rue Louis Favre 1201 Geneva Switzerland - T: +41 78 788 0376
Email:mirfilms@bluewin.ch
Web:www.mirfilms.org
Synopsis
Like a modern-day version of Deadwood, a makeshift gold mine on the remote Diosso hillside in Burkina Faso has attracted a swarm of gold-diggers and dynamite blasters, healers and dealers, vendors and prostitutes, children, holy men and barbers. Living in the promiscuous closeness of a crowded and improvised gold town, these men and women are recklessly determined to find the gold that will change their lives. The film explores their desperate quest for fortune and elusive happiness. The gold rush is relentless.
Trailer
About the director
Berni Goldblat is a Swiss citizen who was born in Stockholm, Sweden in 1970. Since 2000, he has directed and produced films mainly in West Africa. He was a Jury member at the 2008 and 2009 Africa Movie Academy Awards (AMAA) in Nigeria, as well as at the 2008 Imagé Santé International Film Festival in Liege, Belgium. He is also a founding member of the CINOMADE association (www.cinomade.org). "The Hillside Crowd" is his second feature film after "MOKILI," a fiction film released in 2006 (www.mokili-thefilm.com).
Notes
Director Berni Goldblat will be available for Q&A after the screenings.
Related links