1/1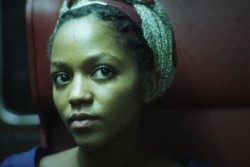 ---
IMPASSE
US Premiere
Netherlands, 2008, 5 min
Shooting Format:16mm
Festival Year:2009
Category:Narrative Short
Cast:Sieger Sloot, Mutaleni Nadimi
Crew:Executive Producer: Jeroen van den Idsert, YANi - Producer: Lisa Driehuis, Robert Roosenstein - Screenwriter: Bram Schouw, Jasper Wolf - Editor: Brian Ent D.C.E. - Cinematographer: Jasper Wolf - Sound: Feike de Wit - Production Design: Kitty Albers
Sales:Jeroen van den Idsert, Executive producer - Hazazah Film, Plantage Parklaan 9 1018 SR Amsterdam, The Netherlands - T: +31(0)194226422 - F: +31(0)196240257
Email:jeroen@hazazah.com
Synopsis
An encounter between a white boy and an African girl in a night train. They look at each other: he wants to, but doesn't dare. She lets him, but stays elusive. When the train stops at the next station, he has to show his colors.
About the director
Bram Schouw (The Hague, 1979) graduates with honors at the Utrecht School of the Arts. His graduation film MARRIAGE is the official opening film for Curta Cinema Rio de Janeiro 2005. In 2007 he co-directs the play BACKSPACE for the theatre festival Cinéma et Justice, organized by the French Embassy and Amnesty International. It is the first of many collaboration with (screen)writer Marcel Roijaards. His second short film IMPASSE has its world premiere at the Tokyo International Film Festival 2008 as part of the feature film Stories On Human Rights with short films from directors such as Hany Abu-Assad, Marina Abramovic and Abderrahmane Sissako. The project gets selected at renowned film festivals in New York, Sarajevo and Paris. IMPASSE gets a Special Mention at the International Amsterdam Film Festival and wins the NFTVM Vers Award for young Dutch filmmakers. After directing the tv film NINA SATANA and episodes of highly acclaimed television series as OVERSPEL and VAN GOD LOS, Bram Schouw wins a Golden Calf (Dutch Academy Award) at the Netherlands Film Festival with the short film SEVILLA. The film premieres in Clermont-Ferrand, gets selected at more than 100 international film festivals, winning multiple awards and is announced to be in the worldwide top-10 films by Vimeo in 2014. With the same team he made ALL THOSE SUNFLOWERS starring Sylvia Hoeks and his first feature BROERS (BROTHERS) that premiered summer 2017. BROERS is very well received by Dutch press, won the MovieZone Award at the Dutch Film Festival and kicks of international Film Festivals as part of the official selection at Premiers Plan in Angers, France January 2018. Besides fiction Bram Schouw directs commercials. One of his first projects, the international DANCE 4 LIFE commercial, won the prestigious Award for Best Hiv/Aids Commercial by the European Commission. His work for mostly socially committed clients as TRIODOS, SENSOOR and Fonds Gehandicapten Sport a.o. gets rewarded with Bronze and Silver Lions in Cannes. For WARCHILD he was chosen Best Director at the ADCN 2015. Bram is represented by Bonkers United (Amsterdam) and Blink Productions (London).
Notes
Director Bram Schouw and Producer Lisa Driehuis will be available for Q&A after the screenings.
Related links