1/1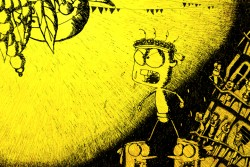 ---
GLOBAL WARMING
(Aale Re Aale)
US Premiere
India, 2008, 1 min
Festival Year:2009
Category:Animation
Crew:Executive Producer: Sharath Shankar - Producer: Famous House of Animation - Screenwriter: Eriyat Suresh - Editor: Kumar. S - Original Score: Jolly Jose - Sound: Cyrus Sasoori - Animation: Arun Rane, Sumith, Shomavo Ghosh - Design: Rajib Mandal - Backgrounds: Amit Ghadge
Sales:Sharath Shankar, Head of Production - Famous House of Animation, Famous Studios Ltd, No 20 Dr E. Moses Road, Mahalaxmi, Mumbai, 400 011, India - T: +9122 3042 3131
Email:sharath@famousanimation.com
Synopsis
Global Warming combines the fun of a festival in India where people form a human pyramid to break a pot strung high up, with the importance of using CFL bulbs and helping cool off the earth.
Trailer
About the director
Eriyat Suresh is the founder and creative director of India's premier Animation studio, Famous House of Animation - a division of Famous Studios Ltd. Eriyat leads a team that has created animation films in 2D, 3D and Clay/stop motion, winning awards and growing recognition in practically every major forum and festival in the world. Today has a portfolio that covers genres ranging from TV commercials, to short films, to music videos, and most recently long format animation. When not animating: A trained Carnatic musician, adventurer, into meditation and spiritual/ philosophic reading, illustrations, photography, experimental drawing and filmmaking.
Filmmaker's note
This is a 2D animation public service film.
Related links