1/1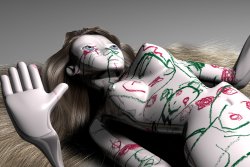 ---
CASUALTIES OF LOVE
United States, 2010, 1 min
Festival Year:2011
Category:Animation
Crew:Faiyaz Jafri
Email:faiyaz@bam-b.com
Synopsis
Casualties of Love is a depiction of the unintentional cruelty to human replicas by children. It is inspired by the intense and uncontrolled love that children have for their favorite toys.
Trailer
About the director
Faiyaz Jafri was born and raised in rural Holland of Dutch and Pakistani descent. He studied at the Technical University of Delft (MSc) and is self-taught as an animation artist and music composer. His work has been exhibited in the form of print, paintings, video installations, animations and life size sculptures all over the world. Jafri's award winning films have screened in prestigious festivals and museums. He has worked for commercial clients including, IBM, Coca Cola and Ford. Jafri's art explores Jungian archetypes in the modern world, distilling the pop references of mass media and global popular culture into a visual shorthand of neo-archetypes. Realizing early on that a computer could draw a straighter line than he ever could, Jafri started using computers as soon as the technology became more readily available. In 1987 he began making his first illustrations on an Apple computer using basic vector imaging software. Cumbersome and limited as these programs may seem now, they were perfect for Jafri's already pictographic style. As the technology evolved, his work developed from flat line art into a stripped-down 3D computer graphics style he calls hyper-unrealism. Despite the endless possibilities offered by computers today, he stays close to his subject, leaving out unnecessary frills and extras until he's left with an image that is unambiguous and almost obscene in it's blunt power. In 2016 Jafri co-founded the Third Culture Film Festival, the first truly independent film festival in Hong Kong. He is also the curator and creative director of the festival. Faiyaz Jafri lives and works in Hong Kong.
Faiyaz Jafri's filmography
Filmmaker's note
I have always wanted to tell stories that could be read by anybody. In order to make my stories universally legible I choose themes and protagonists that are stereotypical and utilize a concise visual language with a deep emotional undertone. My art explores and reinterprets Jungian archetypes in the modern world. In addition I search for neo-archetypes in mass media and global popular culture. An important neo-archetype is the Bambi character which to me has a seductive and an innocent side. This duality is a prominent theme in my work. Compulsion for total control and perfection has made the computer my medium of choice. At the same time, the technology I use is new and rapidly advancing, allowing me to experiment with new aesthetics as of yet unexplored. This gives me the freedom to create my own aesthetics within the medium.
Notes
Director Faiyaz Jafri will be available for Q&A after the screening, and notes that "The superimposed artwork on the doll in the animation come from original drawings from my children, Sky and Vega."
Related links