1/1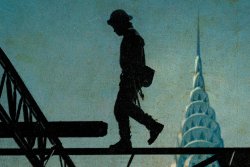 ---
SKYDANCER
World Premiere
United States, 2011, 75 min
Shooting Format:HDV
Festival Year:2011
Category:Documentary Feature
Cast:Jerry McDonald Thundercloud, Sky Fox
Crew:Producer: Katja Esson - Co-Producers: Heino Deckert, Sabine Schenk - Camera: Martina Radwan - Ferne Pearlstein, Wojciek Szepel - Editor: Anke Wiesenthal, Felix Drawe - Music: Matthias Falkenau, Robby Baier
Email:essonkatjanyc@aol.com
Synopsis
For more than 120 years, six generations of Mohawk Ironworkers have raised America's modern cityscapes. They are called 'sky walkers' because they walk fearlessly atop steel beams high above the city streets. On 9/11 Mohawk ironworkers from all over the country rushed to Ground Zero, dismantling what their grandfathers and fathers had built. But who are these men really? And what are their stories that we don't hear about in the media?
Trailer
About the director
Nominated for an Academy Award for her film FERRY TALES which turns the unlikely setting of the Staten Island Ferry women's bathroom into a celebration of sisterhood, Katja Esson's recent film SKYDANCER is a provocative look at Indian life in the 21 Century. Her previous credits include VERTICAL TRAVELER which explores the pioneering spirit of New York City through the metaphoric story of the city's unique relationship with elevators; HOLE IN THE SKY, is a portrait of New York, five years after 9/11; LATCHING ON about the politics of breastfeeding in America; HOOKER, HARLOT, WHORE about the history of prostitution in Europe. Esson's films have been shown at film festivals around the world and broadcast on HBO, PBS and ARTE among others. Esson lives in Brooklyn, New York and shares her time between Germany and the United States.
Katja Esson's filmography
Notes
Director Katja Esson and Producer Sabine Schenk will be available for Q&A after the screening, and songwriters and performers Bear Fox and Jerry Thundercloud McDonald and composer Robby Baier will perform several songs from the film.
Related links