1/1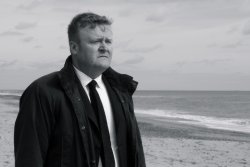 ---
TO THE SEA
East Coast Premiere
Director: Anna Valdez Hanks & Anna Blandford
England, 2011, 14 min
Shooting Format:HDV
Festival Year:2012
Category:Experimental
Cast:Bradley Cole, Joanne Adams, Claire Harris, Matthew Blagdon
Crew:Producers: Monika Kocian - Cinematographer: Anna Valdez Hanks - Editor: Anna Blandford, Anna Valdez Hanks
Email:annavaldezhanks@yahoo.co.uk
Synopsis
Suffolk Coast. The present. A quiet dawn creeps into a family home. The morning routine is punctured when the father hears a cry for help in the sea. He sees a man struggling in the water, but does nothing as the man slowly drowns. His inability to discuss the death creates a fracture within his family. He must shut out his guilt, with the sound of the sea.
About the director
Anna Valdez Hanks has co-directed three shorts with director Anna Blandford. Their work has developed towards creating a reflexive authorial voice to discuss themes such as ethics, sex and identity.
Anna Blandford is an award winning filmmaker. Her work in experimental short films and digital commercials have screened at festivals and art galleries worldwide, including Tate Britain and the Pushkin Gallery, Moscow. Anna was selected onto the Producers Forum Mentoring Scheme in 2013 as a director. Anna's latest short has secured full financing from the BFI film fund.
Anna Valdez Hanks & Anna Blandford's filmography
Filmmaker's note
We are inspired by the art of Rauschenberg. By the desire to take the disorderly proliferate material world and find in it, the sublime. Find order. Our eyes no longer notice the objects around us. By drawing attention back to the clutter of our lives, we discover that these objects have an ability to draw attention to themselves, often through kinesis or sound. The family in 'To The Sea' exist in a state of constant flux, propelled and compelled by the work ethic. Originally a protestant concept, the work ethic has endured. In the absence of God, it curls up snugly with consumerism to provide a complete system of living. It is good to work, it is good to earn money, it is good to buy things. All three 'goods' have become widely accepted into western ideas of morality, despite an absence of any theory that explains why these actions might be 'good' in themselves. The combination of the work ethic and our seduction by technology is a powerful anesthetic, numbing the same human interaction that it proliferates. The lives of the family in 'To The Sea' transect, but there is no opportunity for significant interaction.
Related links