1/1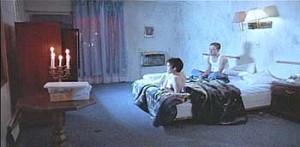 ---
GAS UP & SAVE!
East Coast Premiere
United States, 2002, 25 min
Shooting Format:35mm
Festival Year:2002
Category:Narrative Short
WINNER: Grand Chameleon Award and Best Short
Cast:Deborah Meyers - Ryan Janis - Raasa Leela Shields - Walter Paas - Doris Paas
Crew:Producer: Mitch McCabe & Alan Rackham - Screenwriter: Anne Paas - Editor: Ellen Korbonski - Cinematographer: Chad Davidson & Justin Francis - Sound: Tim O'Heir
Sales:Anne Paas
Email:doogleverb@hotmail.com
Synopsis
Jezebel is a middle-aged woman obsessed with Liberace. Her son, George, thinks he's Christ. This is the lyrical story of their cross-country journey through the heart of America and one family's culture of religious obsession.
About the director
Anne is a native of Northfield, Minnesota. She moved to New York to attend NYU's graduate film program, where she will graduate with an MFA in spring 2002. While at NYU, Anne received the Martin Scorsese Young Filmmaker Scholarship. In addition to Gas Up & Save!, Anne has directed one other narrative short film, The Greatest Show on Earth, and two short documentaries, Mighty Mutts and Miss Alabama Nursing Home. She is currently writing a feature, 100% American.
Related links