1/1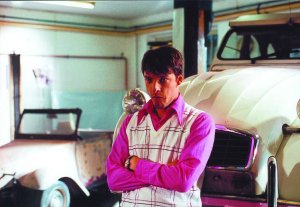 ---
BONBON
US Premiere
Director: Franziska Stünkel
Germany, 1999, 23 min
Shooting Format:35mm
Festival Year:2000
Category:Narrative Short
WINNER: Best New Director
Crew:cita film, Holbeinstrasse 4, Hannover, Germany 30177
Email:citafilm@aol.com
Synopsis
A raucuos romantic turqoise-blue pop-art fairy-tale about the relationship of Julie and Pierre. Julie loves Pierre. Pierre loves Julie. Julie loves France and especially the French accent. For his love for her, Pierre pretends that he's French and speaks with a French accent. A francophile roadmovie about loving and telling lies full of tender-ironical wild memories.
About the director
Franziska Stünkel was born in 1973 in Goettingen. She took film classes at Hanover Polytechnic and did further training with Wojciech Marczewski and Mogens Rukov ("Script 2000" and "Talents 2003" organized by the Nordmedia script & development lab). In 1998 Cita-Filmproduktion was founded which led to her short films participating in over 80 festivals in 21 countries and winning international festival awards.
Franziska Stünkel's filmography
Filmmaker's note
"I'm dealing here with an unanswered question from my life. I attempt to direct this question to the viewers in an unusual way ..."
Related links