1/1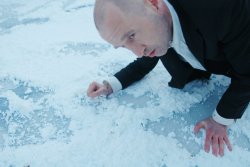 ---
VINETA - THE SECRET PROJECT
(Vineta - Das Geheimprojekt)
East Coast Premiere
Director: Franziska Stünkel
Cast:Peter Lohmeyer, Ulrich Matthes, Susanne Wolff, Matthias Brandt, Justus von Dohnanyi
Crew:Producers: Frank Kaminski, Ulrich Stiehm, Dirk Hamm - Screenwriter: Franziska Stünkel - Editor: Sarah Clara Weber - Cinematographer: Carsten Thiele - Original Score: Ingo Frenzel - Sound: Kai Lüde
Sales:Valuetainment AG, Division: ValueFilms Licensing, Konstanzerstr. 17-19, CH-8274 Tägerwilen, SWITZERLAND
Email:office@valuefilms.net
Synopsis
Sebastian Färber, top architect and workaholic with a heart condition is summoned to a secret project in a remote house. There, 6 men meet for a workshop to design the perfect futuristic city, led by the secretive Dr. Leonhard and his assistant Nina. But soon, Färber suspects that Dr. Leonhard is leaving him and the others in the dark as to his true intentions...
About the director
Franziska Stünkel was born in 1973 in Goettingen. She took film classes at Hanover Polytechnic and did further training with Wojciech Marczewski and Mogens Rukov ("Script 2000" and "Talents 2003" organized by the Nordmedia script & development lab). In 1998 Cita-Filmproduktion was founded which led to her short films participating in over 80 festivals in 21 countries and winning international festival awards.
Franziska Stünkel's filmography
Notes
Director Franziska Stünkel will be available for Q&A after the sceening.
Related links