1/1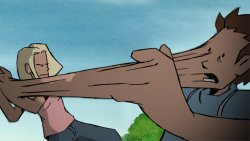 ---
HANDSHAKE
NY Premiere
United States, 2005, 4 min
Festival Year:2005
Category:Animation
Crew:Producer: Barbara Kearney - Original Score: Michael Suby
Sales:Patrick Smith c/o Blend Films, 61 Warren St. 5th Floor New York, NY 10007 - T: 212-406-1631
Email:pat@blendfilms.com
Synopsis
In this animated film, an innocent greeting between two people is quickly transformed into a tangled struggle, illustrating the twists and turns of a full-fledged relationship.
About the director
Self taught animator Patrick Smith made his directorial debut in the stylistic MTV animated series "Down-town". He went on to direct several seasons of the popular series "Daria". Currently, Smith is working full time on independent films. His films have been featured on MTV, Spike and Mikes, Avoid Eye Contact (The best of NYC), and over a hundred other international film festivals. Today, the 32-year-old animator is writing his first feature, and animating his next independent short.
Patrick Smith's filmography
Notes
Director Patrick Smith will be available for Q&A after the screening.
Related links