1/1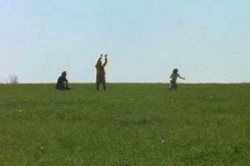 ---
SANS SUPERVISION
US Premiere
United States, 2005, 11 min
Shooting Format:16mm
Festival Year:2006
Category:Narrative Short
Cast:Alexandre Marouani, Julia Dubrovich, Katherine Reilly
Crew:Cinematographer: Sean Williams - Original Score: John Bosch - Sound: Ignacio Carballo
Sales:Andrew T. Betzer, New Brunswick, NJ USA - T: 410-274-3868
Email:betzerhere@hotmail.com
Synopsis
A young couple finds many ways to distract their little girl while they spend intimate time together. Over three seperate outings, the young girl begins to suspect that she may be the only true adult present. An ode to children's self sufficiency.
About the director
Andrew T. Betzer lives in the New York area. In addition to making films, he also works at Cineric Inc., restoring/preserving films.
Andrew Betzer's filmography
Notes
Director Andrew Betzer will be available for Q&A after the screening.
Related links