1/1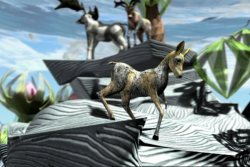 ---
FOREST CLEARING
US Premiere
England, 2005, 3 min
Festival Year:2006
Category:Animation
Crew:Producer: Nicola Black - Screenwriter: Simon Robson & Patrick Vale - Editor: Gary Driver - Original Score & Sound: Jody K Jenkins - Animation: anders Freij & Aline Sudbrack - Technical Direction: Ali Matar, Christian Jelen, Eugene Lipkin
Sales:Simon Young, Sales Agent - Britshorts, 25 Beak Street, London, W1F 9RT, England - T: +44 (0) 20 7734 2277
Email:simon@britshorts.com
Synopsis
A dark figure wants to take over the last forest. A lame deer wants to be king. One holds the key to the others dreams. But if you sell your soul, be sure to know that the devil will collect in the end.
About the director
Simon Robson moved to London in 1995 having completed his bachelors degree in French and Politics at Aston University, Birmingham. Simon moved South with the intention of becoming a musician and signed recording artist. After 4 years of adventure in the city, musical success was thin on the ground. Around the end of 1999 Simon decided to switch direction and start a graphics and digital media course at Ravensbourne college. Simon's interest in graphics and animation quickly developed and by 2001 he was a freelance animator and designer working with various design houses in London.
Simon Robson's filmography
Filmmaker's note
On the surface Forest Clearing is about a lame vengeful deer and a dark game-playing figure that somehow influences the destiny of the forest below his tower. But below the surface are themes of man's interruption of the natural world, themes of trickery and giving with one hand before taking away with the other.
Related links