1/1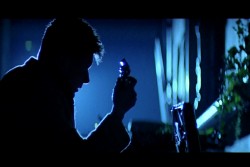 ---
CROSSE
East Coast Premiere
Cast:Francis VAN LITSENBORGH, Sarah BENSOUSSAN, Laura SMET, Jean,Toussaint BERNARD, Edouard BAER
Crew:Producer: Bernard TANGUY - Screenwriter: Liova JEDLICKI - Editor: Carlos GIL SILVEIRA - Cinematographer: Julien POUPARD - Original Score: Jorge ARRIAGADA - Sound: Dorian DARCOURT
Sales:Jean-Charles Mille, Sales Manager - Premium Films, 130 rue de Turenne 75003 Paris, France - T: +33142770631
Email:contact@premium-films.com
Synopsis
An ordinary man sees his evening completely disturbed by the discovery of a gun in the subway.
About the director
Liova Jedlicki is a director, screenwriter, cinematographer. His first short film was about the disintegration of a gay couple trying to heterosexuality. In 2007, Liova Jedlicki filmed Crosse which received the Audience Award at the Festival of Brooklyn. His third short film, Solitudes, underlines the indifference and the limits of our art institutions in support of rape victims.
Liova Jedlicki's filmography
Notes
Director Liova Jedlicki will be available for Q&A after the screenings.
Related links