1/1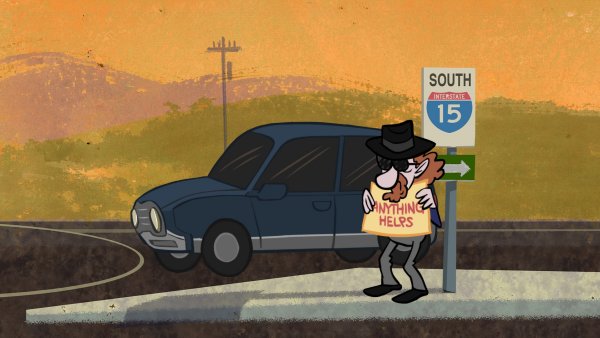 ---
THE ROAD HOME
World Premiere
Director: The Rauch Brothers
United States, 2012, 4 min
Festival Year:2013
Category:Animation
Crew:Executive Producers: Dave Isay, Donna Galeno - Producers: Lizzie Jacobs, Mike Rauch
Email:nreiman@storycorps.org
Synopsis
Eddie Lanier struggled with alcoholism for over 40 years, until his 28th stint in rehab finally led to sobriety. Homeless and hungry, Eddie roamed the streets of his native Chapel Hill, North Carolina, and found a friend in David Wright, a passerby whose frequent donations stood out. Here, the two friends discuss Eddie's remarkable journey.
About the director
The Rauch Brothers are directors of the Peabody Award-winning and two-time Emmy-nominated StoryCorps animated shorts. Their studio, specializing in character animation, has produced work for Sesame Workshop, Warner Bros. Animation, Cartoon Network, and NBC among others. They are currently developing concepts for an animated feature set in Harlem.
The Rauch Brothers' filmography
Filmmaker's note
Our childhood interest in animation was sparked by the fantasy worlds of Walt Disney and Saturday morning cartoons, but the groundbreaking work of UK studio Aardman Animations woke us up to the unique possibilities of non-fiction storytelling in animation. Animation distills life into its most essential elements, revealing truths about the world in a way no other medium can. It can make visual those stories whose scope, time, place, or subject are inaccessible to a camera. Employing documentary recordings in animation creates a unique and exciting contrast between the real world captured in sound and the imagined or artistically interpreted world created on screen. Animation gains a true-to-life quality when complemented by recordings from the real world, and enables the documentary audio to transcend the everyday and offer new meaning and understanding to the audience. When we became aware of StoryCorps and the radio documentaries of founder Dave Isay, we quickly realized that the stories they captured were the kind we wanted to tell in animation. We shared a belief that the most important and interesting stories are stories from everyday life told by people who often go unnoticed and unacknowledged in the media— our neighbors, our friends, and even the strangers we encounter as we go about our lives. Their triumphs, struggles, and day-to-day lives exemplify the courage and compassion of the human spirit. These stories are a tribute to the way we live, love and die. They are a celebration of humanity.
Related links