1/1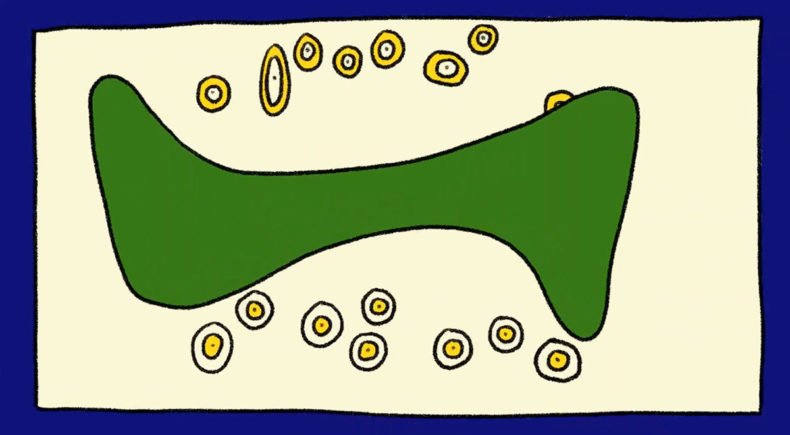 ---
Open Mic
World Premiere
United States, 2020, 10 min
Festival Year:2021
Category:Animation
Genres:Comedy, Drama, Handdrawn, Experimental, Animated
Cast:Jonathan Rosen, Sara Silva
Crew:Writer: Jonathan Rosen. Producer: Jonathan Rosen. Score: Michael Rosen
Email:forbiddencereal@gmail.com
Synopsis
At an open mic night, a young couple navigates a tense moment against the backdrop of an old comedian, a washed up country singer, and a crazed, oracular poet. The minimalist, hand-drawn short uses humor and melancholy to prod the depths of love and betrayal.
About the director
Jonathan Rosen is an artist, animator and performer whose short films have screened internationally. After graduating from Bard College, he moved to NYC to work as a colorist for legendary independent animator Bill Plympton, completing the feature "Cheatin'" and working on several Simpsons couch gags. As an actor, Jonathan portrayed Johnny Thunders in the HBO series "Vinyl" and starred in the coming of age indie film "Active Adults," playing an animator alongside Lola Kirke, Dominic Chianese and Rosie Perez. He has since relocated to Los Angeles, where he works as a musician, cartoonist and animator. He has made animations for such artists as Erykah Badu and Toro y Moi. For his own band Cones, of which he is the singer and songwriter, he creates the artwork and music videos, giving the band an immersive visual dimension.
Jonathan Rosen's filmography
Filmmaker's note
A friend of mine once likened my animations to cells being viewed through a microscope, a comparison I've always loved. As an artist, I'm drawn to distilling shapes to their basic forms, letting their seemingly simple gestures indicate something larger. Since falling in love with animation, I've come to obsess over the way a line shimmers and wiggles when drawn repeatedly, or how, like a game of visual telephone, shapes begin to take on new forms the more times they are drawn. When I begin writing a new project, I always try to leave some space for discovery. Animation, being a measured and extremely time consuming medium, is not commonly associated with the idea of improvisation. One of my missions as an animator is to imbue a sense of freedom and improvisation into my work.

As a teenager growing up in San Francisco, I became a regular performer at an open mic night. I wasn't even old enough to get into the place, but they would let me in through the back to play my songs. I met some real characters there, some of whom were immensely gifted. But what fascinated me most were the performers who seemed a bit broken, the outsiders who were not there to exhibit some refined talent, but rather to simply get something out. If you go too long without being seen or heard, sometimes it can feel like you might not even exist. I finished Open Mic during quarantine, so this idea became increasingly relevant. Looking back, it was these pure and melancholy performers that left the biggest mark on me.

An open mic night felt like the perfect setting to tell my story. Performances at an open mic are often works in progress - sketches of a greater idea. I wanted the sparse and minimalist aesthetic to reflect this idea, as if the lines were still working themselves out. As an actor, it allowed me the opportunity to play a range of characters, each of whom resembles a part of my psyche. Grounding the scene in a narrative conflict, i.e. a fraught and dishonest relationship, gave me a way to unite the performances. Tense relationship discussions often veer quickly into the abstract, almost throwing you into a vacuum of solipsism. As the performances become entangled in the couple's conversation, the reality grows blurrier, and we get closer and closer to their truth.
Related links