1/1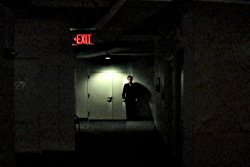 ---
UNTITLED
World Premiere
Denmark, 2005, 4 min
Shooting Format:16mm, DVCam
Festival Year:2005
Category:Experimental
Cast:Brent Murray, Anders Bramsen
Crew:Producer, Editor: Anders Bramsen - Cinematographer: Anders Bramsen and Katsumi Funahashi - Original Score: S.U.I.T. (Nathan Howe and Roland Toledo)
Sales:www.psfp.com
Email:ab74life@yahoo.com
Synopsis
This delightful and complex 4 min. experimental film is composed of a series of odd dream stages where an isolating psychology predominates. The meditational music combined with the urban landscape leads us through a fragile expressionistic poem of deeply disturbing beauty.
About the director
Anders Bramsen (Copenhagen, 1974) lives and works in New York City. Anders attended various art and film schools. Since 1996 he has created a number of experimental films and dramatic shorts. Bramsen's work emerges from situations where personal isolation, inner lives and surreal fantasies rules. Often his themes are based on observations of life's conflicts and pains, dreams and adventures, poetry, violence and aggressive rawness.
Anders Bramsen's filmography
Notes
Director Anders Bramsen will be available for Q&A after the screening.
Related links