1/1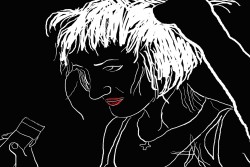 ---
A LETTER TO COLLEEN
Director: Carolyn & Andy London
United States, 2007, 9 min
Shooting Format:MiniDV
Festival Year:2008
Category:Animation
Crew:Producers: Carolyn and Andy London - Screenwriter: Andy London - Editor: Carolyn London - Cinematographer: Sonya Rokes - Original Score: Douglas Mullins - Sound: Glenn Navia - Animators: Marina Tsaplina, Bryan Brinkman
Sales:London Squared Productions, New York, NY 10027 - T: 212 665-3343
Email:andyandcarolyn@mac.com
Synopsis
Head smack into the purgatory of modern teenage life. Using fittingly raw and economical animation, this film is a harsh and wrenching plea to make sense of the past, and to find absolution for having lived too much, too young, and too fast.
Trailer
About the director
Carolyn and Andy London are writers, directors, animators and co-founders of London Squared Productions. Since 1999, they've been creating films, music videos and animated content. Award-winning films include "Subway Salvation" "The Backbrace" and "A Letter to Colleen" and have screened in hundreds of festivals including the Tribeca Film Festival, Annecy and the Ottawa International Animation Festival. In 2011, The London's film, "The Lost Tribes of New York City" was featured in the MoMA show "Talk to Me"; an exhibition on the communication between people, technology and objects. Other projects include the graphic novel, "EAGER TO PLEASE" (eager-to-please.com) and an upcoming theatrical project. The Londons live and work in Long Island City, New York.
Carolyn & Andy London's filmography
Notes
Animators Marina Tsaplina and Bryan Brinkman will be available for Q&A after the screenings.
Related links